Thailand lies within the tropical northern hemisphere, stretching more than 1,800km (1,100 miles) from north to south and covering an area of about 517,000 sq km (202,000 sq miles). Its size is more or less like the one of France or Texas.
It shares borders with Myanmar, Laos, Cambodia and Malaysia boasting 700km (1,700 miles) of coastline.
Bangkok is the capital of Thailand, also known as Krung Thep, located on both sides of the Chao Phraya River, near the Gulf of Thailand.
Bangkok boosts one of the biggest airports in south east Asia, Suvarnabhumi International Airport at Nong Ngu Hao (20 km east of Bangkok) which offers direct connections to many of the world's major cities through a variety of airlines.
Don Muang Airport instead is regarded as the main hub for budget and domestic flights, including Air Asia, Orient Thai Airlines and Nok Air.
Phuket instead is the biggest island of Thailand; it is located on the southern part of the Thai-Malay peninsula on the Andaman Sea which includes that part of the Indian Ocean east of India's Andaman and Nicobar Islands.
The majority of Phuket's tourists arrive by air via Bangkok's International Airport, Suvarnabhumi.
Phuket has its own international airport located 30km north of Phuket city centre. There are tens of daily flights to Bangkok plus connections to other domestic destinations.
International direct destinations from Phuket include Penang, Langkawi, Kuala Lampur, Singapore, Hong Kong, Taipei, Sydney, Perth, Osaka, Tokyo, Doha and Dubai and are increasing. Moreover there are several charter airlines flying directly from Europe, Russia, China, SE Asia in general and US to Phuket all around the year.
Entry Visas are not required by tourists from most countries for a stay of up to 30 days in Thailand but passports should have a minimum of six months remaining, before the expiry date.
On request we will attend you at the arrival either in Suvarnabhumi International Airport in Bangkok or in Phuket International Airport where a comfortable taxi or minivan will drive you to your accommodation or alternatively to The Big Blues venue of your choice. Our chauffeur will be easily recognizable as he will be holding a sign with your name on it.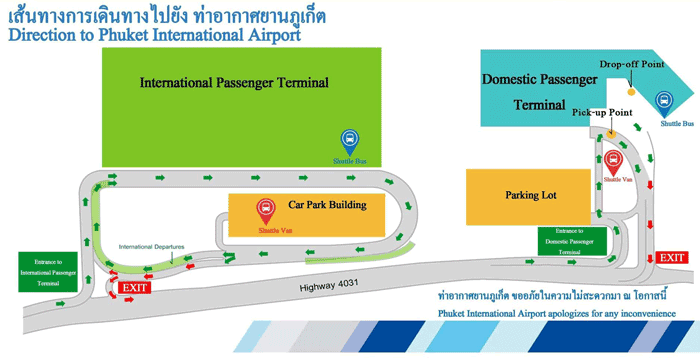 Phuket International Airport domestic arrivals
The Andaman Islands are a group of islands in the Bay of Bengal between India to the west and Myanmar (also known as Burma) to the northeast. Most of the islands are part of the Andaman and Nicobar Islands Union Territory of India while a small number at the north of the archipelago belong to Myanmar.
For the Andaman Islands Fishing Safari you can either depart from Phuket with us and flying back to Thailand or wherever you want (the crossing takes more than 2 days and 2 nights and offers a chance from time to time for very big Black and Blue Marlin) or more easily you can fly directly to Port Blair and join us there for this incredible experience. In this case you can fly to Port Blair through Chennai and Kolkatta in India with Indian Airlines, Jet Airways, JetLite and Kingfisher.
From Europe you can fly directly to Chennai via Paris or Frankfurt with Air France or Lufthansa respectively; from Singapore with Tiger Airways, Jet Airways, Air India, Air Asia and Singapore Airline and from Kuala Lumpur with again Jet Airways, Air India, Air Asia and Malaysia Airlines.
Other airlines serving Chennai from Europe and North-South America include also British Airways, Delta Airline, Emirates, Gulf Air, Kuwait Airways, Qatar Airways, Saudi Arabian Airlines and Srilankan Airline.
Finally there is also the possibility to fly from Bangkok to Port Blair via Calcutta with Jet Airways, Thai Airways or Air India.
Immigration officials require that you have a tourist visa for India to enter the Andaman Islands. You can apply for the visa at your nearest Indian embassy or consulate.
The Big Blues requires a scanned copy, by e-mail, of your visa and details of your passport prior to the charter.
As far as Kuala Rompin is concerned instead it is a small town in the Rompin district of the State of Pahang, Malaysia. It is located on the south-east coast of Malaysia Peninsular and faces the South China Sea. It is about 220 km from Singapore or 3.5 hrs drive and it will be reached by our private taxi which will collect you either from Singapore Airport or from your hotel in Singapore and transfer to your hotel in Kuala Rompin.
The resort is only 10 min drive from the jetty and from the town; anyway you will have our private driver always with you for the entire duration of your stay so to enjoy the local sights & sounds of Kuala Rompin. The local food & beer in fact are definitely better & much cheaper in town so a private driver is always quite useful. The restaurants of Kuala Rompin are famous in fact for their seafood, especially for their freshwater prawns and freshwater clams caught in the surrounding areas especially at the estuary of Sungai Rompin (Rompin River).
At the end of your trip our driver will bring you back to Singapore.
Please note however that on request we can organize the transfer to Kuala Rompin also from Kuala Lumpur in Malaysia.
Entry Visas are not required by tourists from most countries for a stay of up to 90 days in Malaysia but passports should have a minimum of six months remaining, before the date of expiry.
Finally as far as the Burma Banks in Malaysia are concerned they are located about 100 miles west of Ranong, the departure point of our trips in the south of Thailand, located at the estuary of the Pak Chan (or Kraburi) river, opposite Myanmar's Victoria Point, which will be reached from Phuket with our comfortable air-con minivan in a 4 hours drive.

After having spent the first night in a local hotel to recover, we are going to border our vessel in the early morning and after a short stop in Kawthaung for immigration control, we are going to start the 15hrs journey to the Burma Banks. We'll arrive over there during the night and start fishing immediately. During the next few days we'll then explore all the area, moving between the different seamounts, fishing day and night non-stop.

Immigration officials require that you have a tourist visa for Myanmar to go to the Burma Banks. The visa will be provided by The Big Blues once in Ranong; you be requested to provide 4 passport size pictures and 3 copies of your passport front page as well as Thailand last entry stamp.
So
contact us
and we will be more than happy to help you out with your booking.
Blue News
Thailand Classic Sportfishing Tournament, 01-03 March 2017