As far as the available species are concerned compared to most of the spots in SE Asia Sailfish are present in good number particularly around Kuala Rompin in Malaysia on the South China Sea. Over here in fact you have the chance to see this beautiful animal tailing and jumping around you in incredible numbers.
Pacific Sailfish are present during all year around Phuket with peaks occurring between June and August during the south west monsoon season. Kuala Rompin Sailfish season instead runs from April to November with the peak season from July till the end of November. During these peaks months, we average 6-10 Sails per weekend, comparable with top Sailfishing destinations such as Costa Rica, Guatemala or Florida Keys. Sailfish are drawn to Kuala Rompin by the warm waters of the South China Sea; the local reefs and abundance of bait fish in fact make it an ideal resting ground before they migrate towards Australia. For the rest of the year if you are looking for Sailfish, Koh Rok and Koh Ha Islands nearby Phuket are the place to go; over here in fact they are present till April in excellent number as well.
On the other hand Black Marlin (and occasionally Blue Marlin) show up from time to time from October to April just do not expect to find plenty of them. Phuket's Blacks are usually juveniles between 120 and 450 lbs although bigger fish have been hooked. The best fishing is usually immediately after and before the full moon and the new moon and the drop-off west of Phuket or even better the Similan islands are the hot spots around here.
Big Black and Blue Marlin, Sailfish averaging over 100lbs are available in good number instead around the new fishermen mecca of the Andaman Islands in India between January and April.
Anyway if you are serious about the "big nose" we suggest you to request always a strictly marlin venture to improve your chances!
In the same way in the Andaman Islands as well as in the Burma Banks we organize specific "Popping & Jigging Expeditions" to target the well renowned local XXXLGT, Yellowfin and Dogtooth Tuna.
Tuna are common during all year in the Andaman Sea waters and they are present in several varieties; Yellowfin Tuna, Skipjack Tuna, Mackerel Tuna, Eastern little Tuna and Longfin Tuna. Wahoo are plentiful from October till April while King Mackerel (Tanguigue), Narrow Barred Mackerel (Tenggiri) and Barracuda are other members from the "razor gang" always present.
Giant Trevally are plentiful and can always produce fantastic action on popping or jigging during our Andaman Islands and Burma Banks trips. Other inshore species available all year round include Dorado (Mahi Mahi), Rainbow Runner, Blue Finned Trevally, Golden Trevally, Queenfish, Cobia, Coral Trout, Mangrove Jack and a variety of bottom fish.
Finally Tiger Sharks, Hammerhead Sharks, Mako Sharks have been caught in the past (particularly around the Andman Islands and the Burma Banks) while a variety of reef sharks are considered normal but other species are also found.
In this regards in order to preserve the rich marine heritage of the Andaman sea The Big Blues is a strictly catch & release venue.
Overall anyway the information provided above must be considered only a guideline, in fact many factors have an influence on the migratory path of all the pelagic species. Water temperature, wind, current and bait can cause these normal patterns to fluctuate.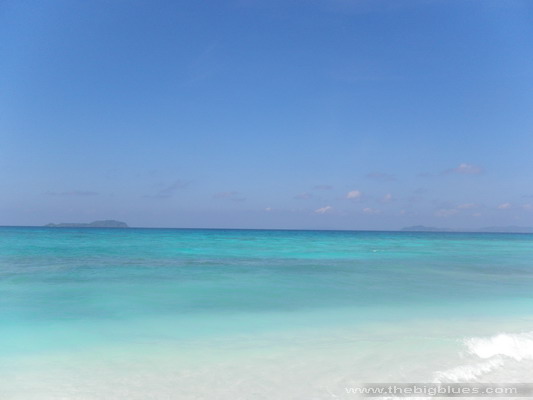 Blue News
Thailand Classic Sportfishing Tournament, 01-03 March 2017