At The Big Blues we will provide our guests with first class quality tackle and custom service both for the blue and freshwater fishing. Whether you prefer heavy, light or conventional gear, our crew, guides and equipment will satisfy all your needs.
Blue water techniques used are as wide ranging as trolling always according to IGFA rules either with lures, dead or live baits, switch&bait, popping, jigging, drifting and bottom fishing.
On board our live aboard vessels you will mainly find Shimano and Penn Int'1 rods, Shimano Tiagra A Series reels, Penn Igfa mono line, Momoi or Ande leader line, Capt. Harry's wind-ons, the best lures and teasers, Sampo swivels, Mustad circle and standard hook. Gimbals are provided for stand-up fishing. Moreover various models of Shimano and Penn spinning reels combined with various rods & gear are used for bait-fishing, bottom, jigging & lure fishing.
12#, 20# and 30# pound class gears general tackle is the standard around Phuket and Kuala Rompin for Sailfish and all the other inshore species. Moreover all our boats departing from Phuket have also rigged a pair of 50# and #80 gears ready to catch "the big blue" with live/dead tuna or artificial lures. Obviously, our crew will be more than happy to rig your own tackle if you'd like to bring it with you.
Also due to the number of Sailfish you'll see tailing around Kuala Rompin (but also around Koh Rok / Koh Ha islands during the dry season), it is an excellent opportunity to have a try on fly rod. The technique used when targeting Sailfish on fly fishing equipment is usually to troll a spread of "Bird Teasers" and "Daisy Chains" until the Sailfish appears and then casting the fly to our friend. In this case we recommend you to bring your own fly fishing tackle which should include a good 12 or better 14ft quality rod (i.e. Sage, Orvis and T&T) with a good reel and a strong drag.
In the same way please note that if you are going specifically to fish with light tackle (anything under 16 pounds), poppers or jigs, we recommend you to carry with you your own gear (although we do have something on board particularly during our trips around Phuket, Kuala Rompin or to the Andaman Islands).
In particular please note that you will be requested to bring with you all the fishing equipment during our live aboard fishing safari to the Burma Banks in Myanmar since during this particular trip you will be doing almost exclusively bottom fishing, jigging and popping.
Finally keep in mind that our professional captains, mates and guides will be able to assist both the novice and the veteran angler as well as to introduce to the sport fishing the youngest members of the family. As general rule of thumb anyway we can help you as much or as little as you require.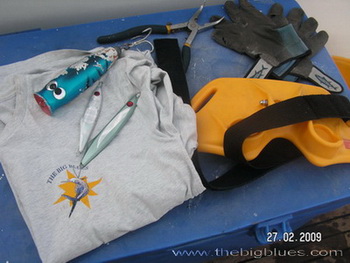 Blue News
Phuket International Sportfishing Tournament, 20-24 November 2019