Terms & conditions
Deposits
Deposits are due 14 days after booking in our reservation office in Thailand. Deposits are 50% of the entire charter rate per every day of fishing booked. If no deposit is received 14 days after your booking, your reservation is subject to cancellation and the space can be sold to customers requesting space.
Final Payment
The final payment is due as follows:
- for all the trips departing from Phuket or Bangkok on the departure day of your trip;
- for all our Kuala Rompin trip 1 week before the sheduled trip;
- for the Andaman Islands and Burma Banks live aboard fishing safari 45 days before the departure date of your trip.
If payments are not received, The Big Blues reserves the right to sell the spaces in question with forfeiture of all money previously paid.
Forms of payment (for reservations and balance)
Acceptable forms of payment at our reservation office are: bank wire transfer (S.W.I.F.T.), credit card through PayPal or PayPal itself. In Phuket or Bangkok we accept only cash (Thai Bath).
Cancellation Policy
Should you wish to cancel your trip around Phuket or Kuala Rompin within 31 days of departure your deposit will be refunded, less a 10% cancellation fee. If you cancel your trip, for whatever reason, 30 days, or less, prior to your arrival date around Phuket or Kuala Rompin your entire deposit will be forfeited. In the event of a "NO SHOW" all monies are forfeited.
Please note that the above term for the Andaman Islands as well as the Burma Banks is 60 days.
We will always do our best to get you out fishing but please remember that trips, and more particularly, live aboard charters, may be restricted or cancelled due to weather conditions. In this case, calendar permitting, we will try to get you out on the next available window of opportunity or a full refund will be provided less any expenses incurred.
If we cannot fulfill a charter due to mechanical or other operational circumstances beyond our control, you will be fully refunded less any expenses incurred.
Responsibility
We strongly advice all of our guests to make their own insurance.
The Big Blues, its employees and agents, assume no liability also for the service of any transport conveyance which may be used in providing service to the guest. Neither will The Big Blues be responsible for any injury, loss or damage caused by accidents or other events, including acts of God or weather conditions, or by any action or negligence of attendants of third parties, or any act, error or omission, injury, loss or accident , delay or irregularity which may occur for any reason, including neglect or default of any individual or company engaged in providing service to guest.
Travel Insurance is strongly recommended to protect your investment. In the event of a family emergency, act of God, or other unforeseen situation that would require you to cancel your trip, you could be covered in fact with travel insurance.
WE STRONGLY URGE YOU TO PURCHASE A TRAVEL INSURANCE
Tips
Gratuities are always at the discretion of the guest; however, we recommend tipping Captain and Mate with at least 10% of the charter boat rate per day. This amount is divided by the number of anglers fishing from the boat and can be given directly to the Captain who will split it 50/50 with the Mate.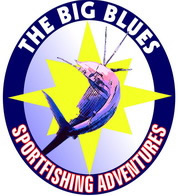 THE BIG BLUES
Address: 4/14 Moo 1, Rawai, Phuket
83130 - THAILAND
Phone: +66 (0) 878345293 (Eng-Italian)
+66 (0) 843087488 - 864764036 (Eng-Thai)
TAT license no. 31/0417
Blue News
Phuket International Sportfishing Tournament 20-24 November 2019